Peoria, Ill.— Simformotion™ LLC – a leader in heavy equipment simulator training solutions – announces the release of the new Cat® Simulators SimLite Compact Track Loader System. The portable station allows instructors and learners to utilize operator training inside the classroom or at off-site locations.
Set in a busy construction environment, the system teaches learners how to operate a Compact Track Loader. Correct machine operation leads to increased safety, production and cost savings. Simulation is a safe alternative to using actual machines for heavy equipment operator training. Learners can train anytime using simulators with no need to take a costly machine out of production, be concerned about the weather, or most importantly, worry about the operator's safety.
"Companies are struggling to hire skilled workers. Training makes a difference. The Compact Track Loader is a versatile machine, so we created a versatile simulator that trains learners using authentic Cat® controls and teaches applications found on real-world jobsites. Training programs can integrate the system into their formal classroom programs or take it to worksites for application training," says Simformotion CEO, Lara Aaron.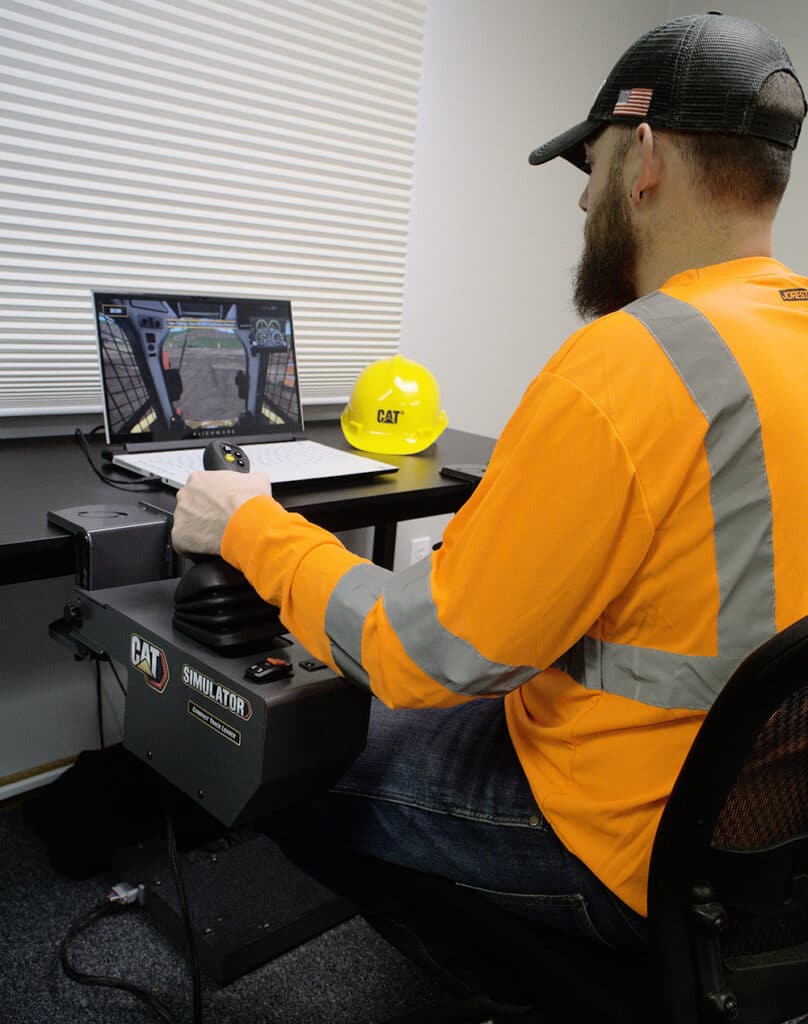 SimLite is built on a standardized platform and designed as a self-contained educational tool deployed through hardware and software. SimLite includes exercises that teach learners how to conduct a walkaround inspection, maneuver the machine, grade, use the jackhammer and blade box attachments, and more. Plus, an open training mode in each exercise offers learners opportunities to practice and refine skills while recreating site-specific scenarios. Available in multiple languages, the simulator reports learners' simulation results to track progess. The system also features an option to add VR Edition, which provides users with greater depth perception and a larger view of the simulated environment.
The companion curriculum, SimScholars™, is a one-to-one match with the simulator model and can be used in the classroom or for remote learning. It is an online, turn-key solution complete with instructor guides, learning outcomes, lessons, videos, quizzes, tests and more. Integrate simulators and curriculum together for a blended learning experience.
In addition to the new SimLite Compact Track Loader, Cat Simulators are available in many other models for the construction, mining and forestry industries. Visit catsimulators.com for information on the SimLite product line.
About Simformotion™ LLC
Simformotion™ LLC is a leader in heavy equipment simulator training solutions. Simulation can help address initiatives such as safety and production; while ensuring training can be delivered anytime day or night, regardless of weather conditions. Cat Simulators are chosen as training solutions in such markets as mining, construction, forestry, government, and trade and vocational schools. Simformotion™ LLC is a licensee of Caterpillar Inc. As used herein, "Simformotion" means Simformotion™ LLC, a Delaware limited liability company.
CAT, CATERPILLAR, LET'S DO THE WORK, their respective logos, "Caterpillar Yellow," and the "Power Edge" and "Modern Hex"  trade dress, as well as corporate and product identity used herein, are trademarks of Caterpillar and may not be used without permission. www.cat.com / www.caterpillar.com  Third party trademarks are the property of their respective owners.