Peoria, Ill. — Simformotion™ LLC – a leader in simulator training solutions – announces an agreement with GROWMARK to resell its FS Simulator™.
Set in a rural environment with roads and fields, the FS Simulator™ trains students how to operate an ag sprayer effectively and safely. Developed with industry experts, the FS Simulator™ includes several different modules and features realistic controls, multiple screens, a spray coverage map and a motion system. Students practice the same applications as found on real-world farms with an emphasis on safety which increases the learner's knowledge and awareness of potential safety hazards then tracks numerous safety violations during training lessons.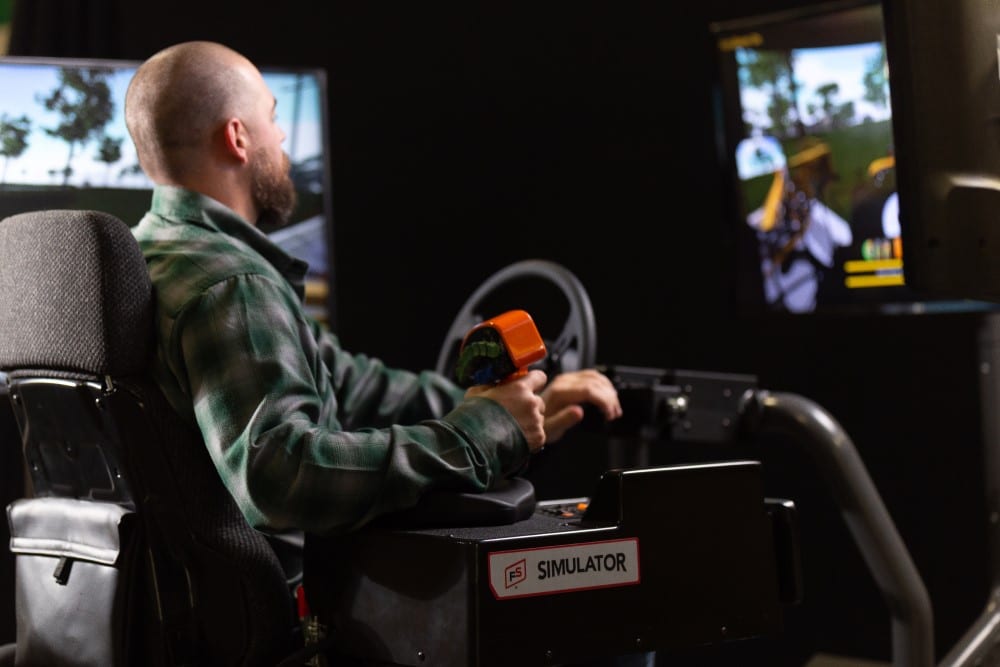 Pete Fandel, Illinois Central College (ICC) Agriculture Program Director, believes the  agriculture program's students have a head start against others in the ag job market because of their FS Simulator™ training. "Ag sprayer training is one of the areas we never could really help the students develop a skill set in since we don't have enough acres here at ICC to own a sprayer," explained Fandel.
"Now with the simulator, we're able to train students how a sprayer operates and runs then how to safely use it," continued Fandel. "I think we're giving our students a leg up if that's an industry they want to go into in the future."
The Full Production (Beginner) module teaches students how to operate the machine on the road and in fields with crops while following routes, safety actions and maneuvering around obstacles. The Full Production (Advanced) module prepares students for advanced operation on the road and in a larger field. The learner must traverse rolling and rough terrain, drainpipes, fences, crops and more. In addition to the beginner, intermediate and advanced simulation exercises, students also learn how to successfully drive and efficiently operate the ag sprayer in row crops without damaging crops.
The FS Simulator™ also provides a means to quickly assess and evaluate current custom operators by tracking overall safety and operational techniques which are translated into final scores. For even more training value, the VR Edition can be added which provides a larger view of the environment and a more realistic experience with a VR headset.
Simformotion has relationships with simulation users worldwide. The agreement means more students and operators can experience the benefit of hands-on training in the safety of a virtual environment before getting into an actual machine.
Visit www.simformotion.com for more information.
®Copyright 2021 GROWMARK, Inc. Simformotion' LLC is an authorized reseller for GROWMARK.
FS Simulator™ is a trademark owned by GROWMARK, Inc.
About Simformotion™ LLC
Simformotion™ LLC is a leader in heavy equipment simulator training solutions. Simulation can help address initiatives such as safety and production; while ensuring training can be delivered anytime day or night, regardless of weather conditions. Cat Simulators are chosen as training solutions in such markets as mining, construction, forestry, government, and trade and vocational schools. Simformotion™ LLC is a licensee of Caterpillar Inc. As used herein, "Simformotion" means Simformotion™ LLC, a Delaware limited liability company.