One of the best field trips ever! That's how a Lowpoint Washburn high school senior described his recent class field trip to Simformotion's headquarters in East Peoria, Illinois, where he and six of his classmates spent the day learning ̶ not by reading books, using their tablets or listening to their teacher. But rather, they took turns operating two Cat® Simulators, the Advanced Dozer and Excavator, both located inside Simformotion's Mobile Training Center (MTC).
The students arrived at Simformotion excited about the day ahead of them, a day full of hands-on simulator experience, not to mention a day away from the classroom. After walking up three stairs into the MTC, the students saw their classroom in the MTC, complete with desks, chairs and two full-motion simulator systems.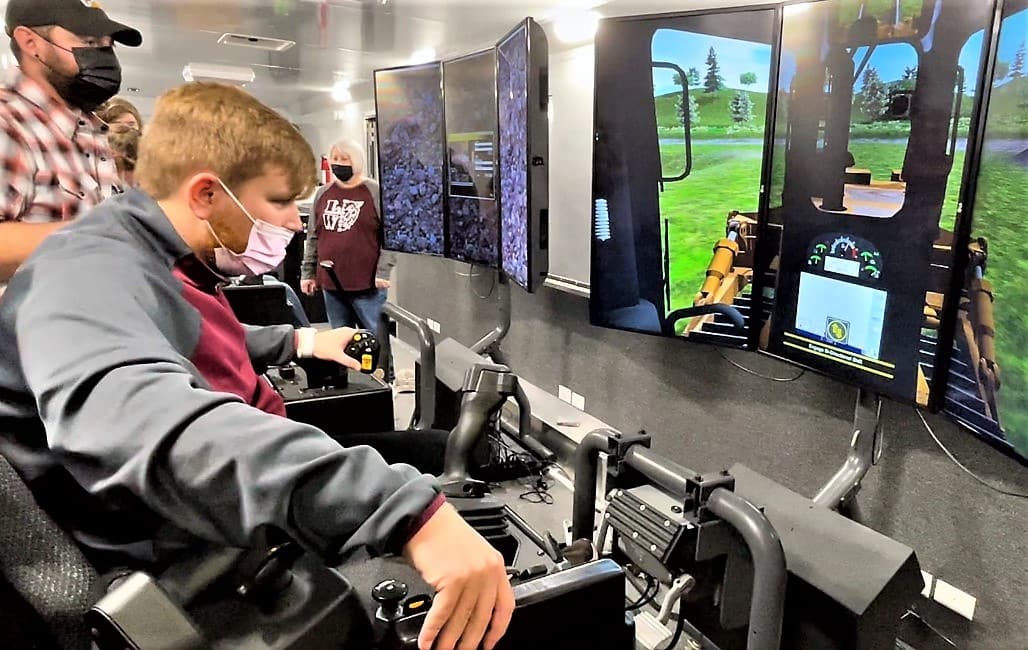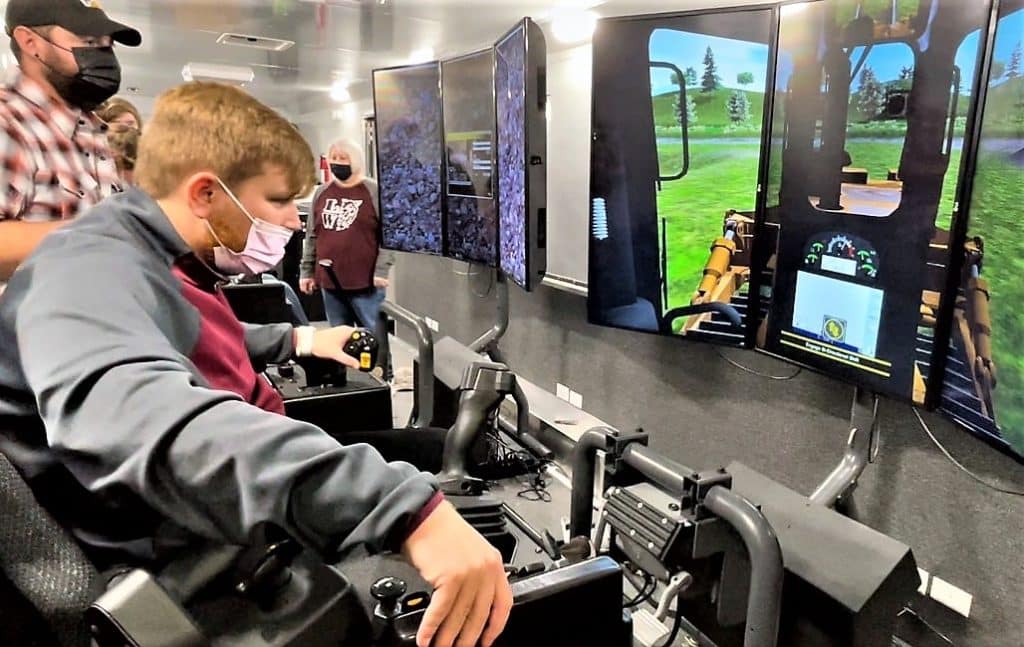 Simformotion Trainer, Tyler Kuehn, greeted his new students; then grinning, handed them each a quiz. "I always start my classes off with a pre-test," explained Kuehn. "In this case, I'll find out how much, or how little, they know about an excavator which will give me a baseline on their machine knowledge level."
"I'm excited for these kids to be here today to experience the simulators," said Kuehn who initiated the field trip by talking with his mom, DiAnn Kuehn, a teacher's aide in the Lowpoint Washburn junior high STEM program. "I asked her if any students would be interested in a field trip to Simformotion because I thought it would be a valuable experience for high school students. I'm pretty sure if an opportunity like this would have been available when I was in high school, it would have changed my career path."
DiAnn contacted Kim Krohn, the high school's business teacher, and the two teachers went to work determining which seniors in Krohn's vocational co-op program would benefit most from the hands-on simulator experience.
The timing was perfect. "We had been looking at different professions and just finished talking about different careers, so the visit fit perfectly at the right time," explained Krohn. "It was a terrific opportunity, and I would love to do it again in the future. It gave the students a unique perspective of a career in operating machinery."
"One student who wants to be a heavy equipment operator thought it was awesome that he could operate both the excavator and dozer simulators. Another student who was on the fence about whether he wanted to go into machine operation is thinking more seriously about it now." Krohn added, "And there are a couple of other students who are definitely more interested now. The day gave all of them a view into a career they could possibly do that some of them hadn't even considered earlier."
Not only did Krohn observe her students try their hands on the simulators, but she climbed into the excavator's operator seat and became a student too. "I wasn't very good at it," she laughed. "I was surprised at how real the movement felt. It was like I was actually operating an excavator which was really good because now I can talk to my students about it as a possible profession."
Krohn was impressed with Kuehn's training style and focus on safety. She shared, "We could tell he cared about what he was teaching and the simulators. One of his main points was how safe you must be when you're operating a machine. He explained that simulator training can help teach operators how to operate machines safely. That hit home with me and the students."
Senior Jesse Knacht enjoyed his time on both simulators. "The best part of the day was operating the simulators, especially the dozer," said Knacht who is interested in a career as a heavy equipment operator. "I'm really glad we were invited. It was a great opportunity, especially if you want to go into machine operation like I do."  
Kuehn feels like he achieved his goal of inviting the students to Simformotion for the day. "According to my mom, some of the younger kids who aren't seniors yet heard about the field trip and are asking if they get to come here next year," said Kuehn. "I'd call that success."