Safety Video Series. Accident Awareness. Hoopaugh Grading Company. The Cat® Difference.
Safety is everyone's responsibility. Often safety comes down to awareness and training. Heavy equipment operation is no exception. Watch a video series on ways to prevent heavy equipment accidents. Download the free infographic.  If you would like links or copies of the videos for your website, classroom or shop, contact us. We are more than happy share. Watch the first video in the series below. Watch the rest of the video series at this link: Safety Video Series.
Workplace Fatalities Infographic
Work-related injuries can happen in an instance. Download our free infographic and make a discussion out of it with employees and students. Hang it in your shop, breakroom or classroom as a reminder to be vigilant about safety.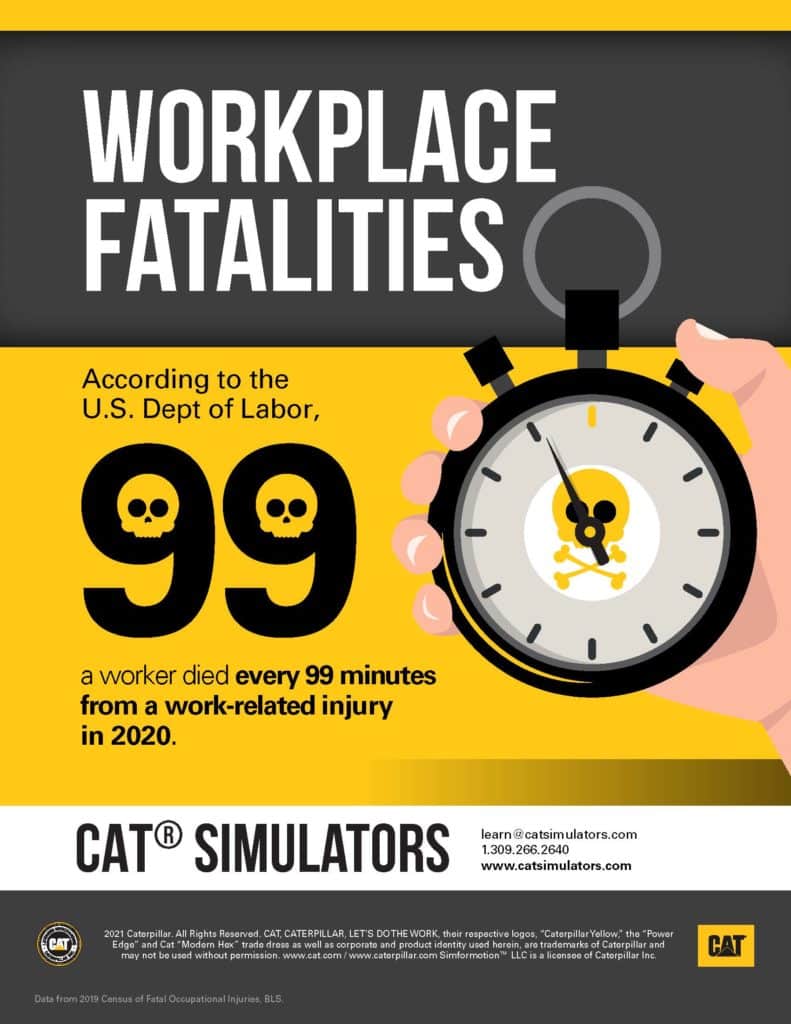 Hoopaugh Grading Company, LLC, (HGC), one of the largest general contractors in North and South Carolina, is seeing a vision of becoming a teaching company come to life with HGC Academy. Read more on how they are training and developing employees including heavy equipment operators.
Why Choose The Cat® Difference?
Have you discovered what sets Cat® Simulators apart from other simulators on the market? It's the Cat difference. We use genuine Cat controls, not generic controls, or a single set of controls across models. Learners train on the same controls as found in the real machines. Cat Simulators machine applications are developed with Caterpillar expert operators. These are the same applications found on real-world worksites. Read more on our differences and see videos of how closely our simulators match Cat machines. Contact an Account Manager for a demo to experience the Cat® Difference. Watch one of the differentiator videos below. Watch the rest of the video series at this link: The Cat® Difference.