Curriculum for Cat® Simulators construction models. Skill Builder system. Undercarriage management. Collins Career Technical Center. Motion system update.
Heavy Equipment Simulator Curriculum Available
Are you looking for a turnkey curriculum to go with Cat Simulator training? We have it in SimScholars™. All of the Cat Simulator construction models have online curriculum  available. Get Instructor guides, schedules, lesson plans, quizzes, videos, tutorials and more. Curriculum covers as many students as needed and works to extend learning from hands-on simulation training. Great for schools that have or want to set up heavy equipment operator programs or businesses with in-house training programs that feature simulators. Contact an Account Manager for a demo.
Training with Cat Simulators Skill Builder
The new Cat Simulators Skill Builder line offers many options for heavy equipment training. The new product line begins with the Small Wheel Loader Skill Builder system featuring authentic Cat Controls. Training is set in a construction environment with objects and materials that the simulated machine can interact with such as pipes, dirt and a truck. The system also has an option for the VR Edition, to give users greater depth perception and a larger view of the environment.
Contact an Account Manager for a demo of Small Wheel Loader Skill Builder.
Extend the Life of an Undercarriage
The undercarriage is the most expensive part on a piece of heavy equipment. Operators can extend the life of an undercarriage by following some best practices. Download the free infographic for your shop or classroom as a reminder of what training can do to reduce unplanned maintenance costs.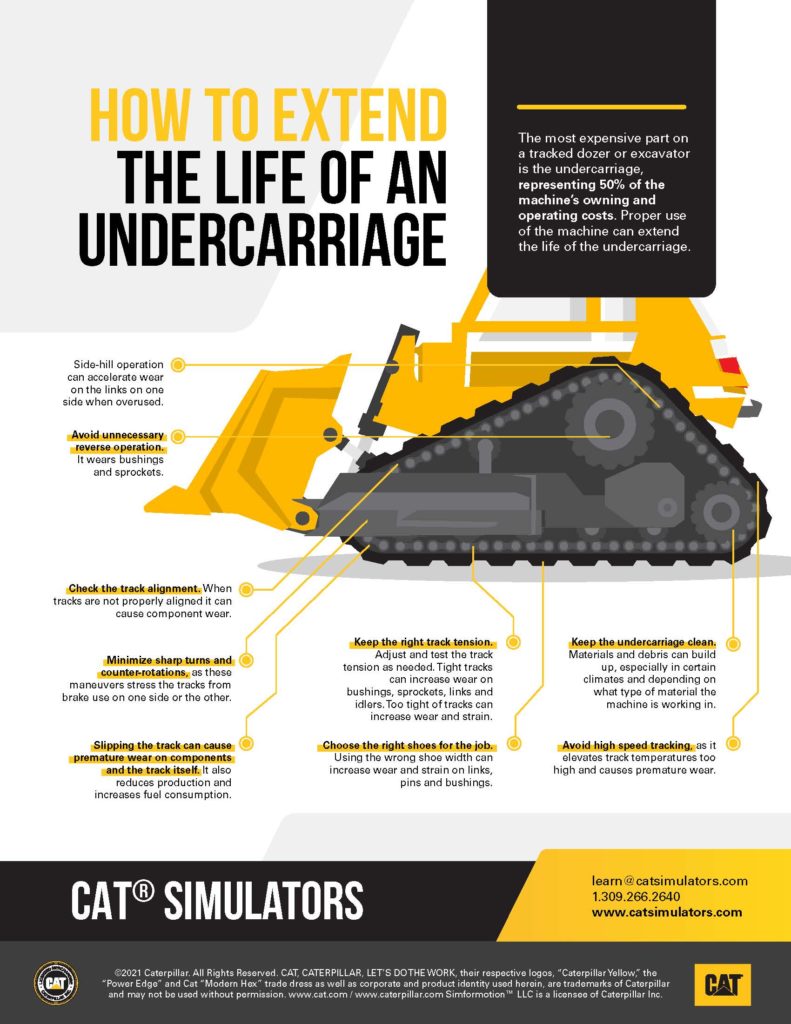 Collins Career Technical Center (CCTC) Helps Heavy Equipment Operator Students Gain Confidence of Skills
Partnering with the IOUE, Collins Career Technical Center designed training for its heavy equipment operator program. With more than 22,000 operators needed over the next two years, the school is helping fulfill a huge demand. Read more about the program and its success: https://catsimulators.com/cctc-simulator-training/ 
Contact an Account Manager to set up a heavy equipment program at your school or business.
Motion System Software Update
To our Cat Simulators customers who purchased the motion system with their simulator(s) prior to 6/1/21, an update to the actuator software controls has been released by the manufacturer. Downloading and installing the update will help prevent future setting changes that could prevent the motion system from functioning correctly.
Please contact our Support dept. at 1.877.434.7467 (in US); 1.309.266.2640; or e-mail support@catsimulators.com for assistance in getting the update.