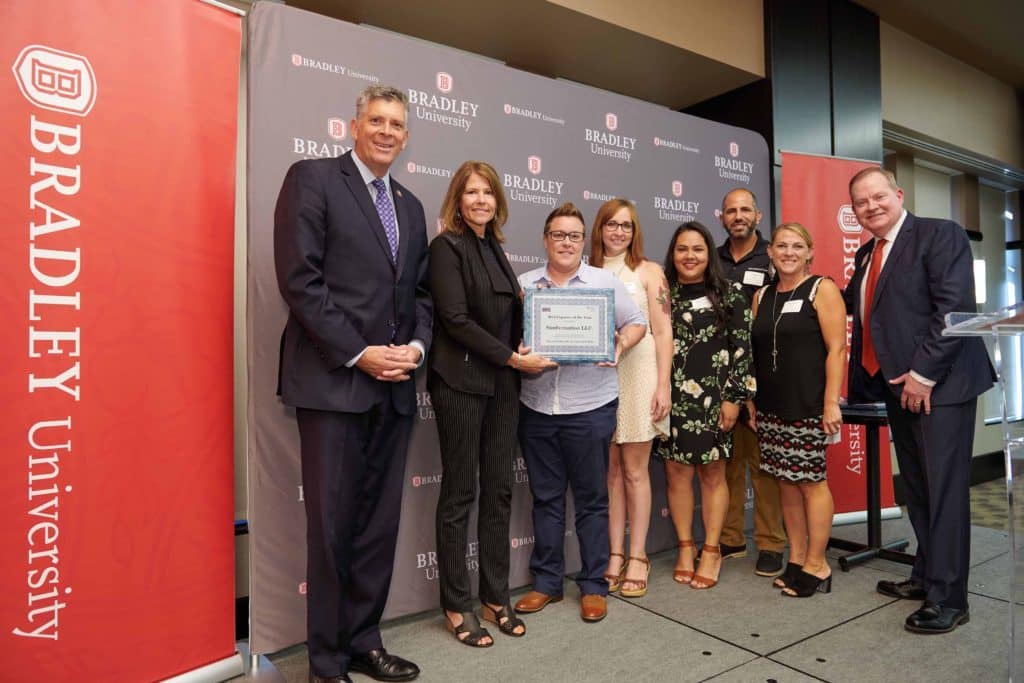 Peoria, IL, August 2019—Simformotion™ LLC – a leader in heavy equipment simulator development and sales – is pleased to announce that it has been recognized as the Exporter of the Year by the Turner Center for Entrepreneurship.
This prestigious honor is awarded to a company that has grown its exports and made exporting a cornerstone of its business. Companies are judged on criteria such as export sales growth, multi-lingual and cultural efforts, marketing strategies, and number of jobs created.
Congresswoman Cheri Bustos and Congressman Darin LaHood presented the award during a ceremony, held at Bradley University. The Turner Center for Entrepreneurship showcased 10 Illinois businesses that won awards in different categories. The event showcased the success of its clients and the strong relationships with community partners.
"When Simformotion started 10 years ago I could only dream of how it would grow. The success of the business is only part of the satisfaction. Knowing how simulator training is changing the lives of people by giving them a marketable skill is where the real joy comes from. To be recognized for our work is humbling. I am proud of our team and their efforts to serve clients throughout the world," says Ken Pflederer, CEO and cofounder.
Each simulator is custom-developed based on an actual machine. Each simulator weighs hundreds of pounds and has approximately a 5×8 footprint. A warehouse team assembles, tests and ships the simulators worldwide. Any machine, device, or tool can be simulated, including with or without a VR (virtual reality) headset. Training in a virtual environment helps companies to minimize their liability (training to avoid mishaps), lower costs, and increase productivity.
Simformotion employs a sales team who has relationships with businesses around the world that utilize simulators for training. Clients have the option to sell simulators through the in-house team. Simformotion has demonstrated best practices in export development including significant in-country travel to expand business, participating in trade shows, and building different sales channels. The company has hired international representatives in their commitment to exports.
Simformotion is committed to growth in sales of existing simulators and finding new business opportunities for all types of training development. The team stays current on new technologies that will benefit its customers. Whether it's simulation, VR, or another form of technology, Simformotion conducts the R&D necessary to develop training that fits its customers' needs anywhere in the world.
Simformotion has contributed to dozens of jobs in the area including other local manufacturers.