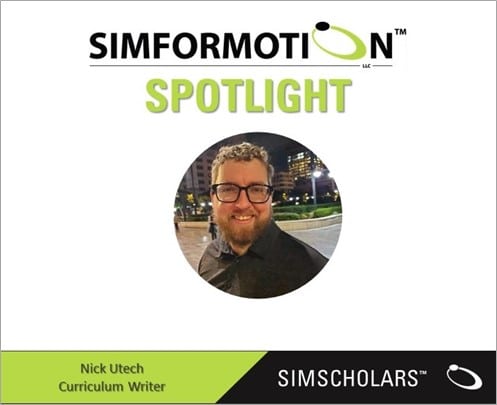 Why did you choose to work at Simformotion?
I was attracted to the Peoria area initially. So, I started looking for positions and found Simformotion and this position. I'm a huge geek, love technology and enjoy teaching others so this role is a perfect fit! I'm excited that I'll be helping thousands of learners every year around the world versus the 200 students a year that I taught previously.

What's your job title? What are your job responsibilities?
I'm the new Curriculum Writer on the SimScholars™ team. I'm creating program curriculum for students training on Cat® Simulators systems. These students range from beginner students who have never set foot in a piece of machinery to seasoned operators wanting to improve their skills. I look forward to helping them learn the skills they need to be successful on the jobsite. SimScholars can be used in the classroom or for remote learning. It is a complete turnkey solution for instructors in schools or private businesses.

Please tell us about your professional experience.
Before coming to Simformotion, I was a teacher for five years. I taught robotics, engineering and Esports. However, before that, I was a professional actor, bartender and serf at Medieval Times during my college years.

What have you learned as a professional or in life that you apply to your role?
I learned that I like helping others and sparking curiosity in others' minds. The "Aha!" moment people get when they learn or understand something I've taught them is music to my ears!

How do you measure your success?
I measure my success by how much I see others around me succeed. If they are successful, I'm doing my job right. If they are struggling, then I try to find a way to help so they can succeed.

Do you have a favorite quote? If so, what is it?
I like to live my life by an adage my father taught me on the ranch where I grew up. He would always say, "If you don't have time to do something right the first time, then you must have time to do it again." It has influenced me personally throughout my life and any challenges I've faced.

Anything else you'd like to share with us?
I've already said it, but I'll say it again, I'm a huge geek! Dungeons and Dragons, video games, reading, tinkering with tools, woodwork, anime, you name it and I've probably dabbled in it! My favorite game is Legend of Zelda: Majora's Mask and my favorite book is Ready Player One!