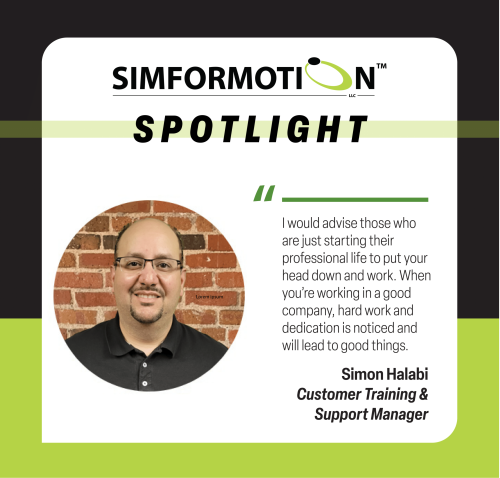 Why did you choose to work at Simformotion?
I was initially hired to work with the team on a large military contract traveling to a different city every week which taught me so much about the simulators. I found that I really enjoyed working and learning about new technology. I enjoyed the various challenges the role offered and felt it was a great way of helping me grow professionally.  
What is your role and what are your responsibilities?
I am the Customer Training & Support Manager. My role is split into two areas. I work with the Install/Training team, assisting and guiding them to achieve our 30-day goal from shipment to installation. The other aspect of my job is to manage the support teams.  
What are some of your professional goals?
My main goal in my role is to learn how to be the leader of a team and not just manage people. However, I also always want to continue learning and developing my skills to train others in what I have learned. 
Tell us about your professional experience. 
I started my career in the medical field working in radiology as a radiologic technologist which taught me how to handle a highly stressful, fast-paced industry. I had to think quickly on my feet and stay calm in many situations. I had the opportunity to work with technology differently; I was ready for a career change but knew I wanted to continue in the technology sector. 
What have your years of professional experience taught you?  What career advice would you give someone?
Doing the hard work really pays off! I would advise those who are just starting their professional life to put your head down and work. When you're working in a good company, hard work and dedication is noticed and will lead to good things. 
Do you have a favorite quote or meme? If so, what is it?
Do not go where the path may lead, go instead where there is no path and leave a trail.  -Ralph Waldo Emerson