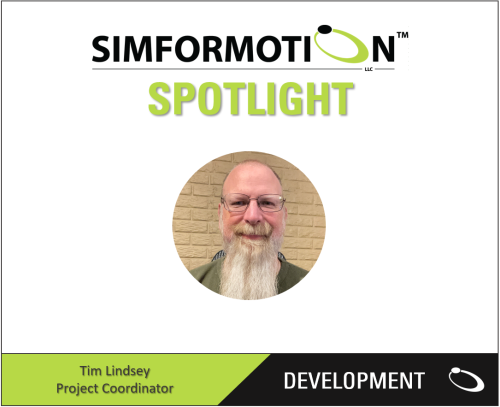 Why did you choose to work at Simformotion?
I love being able to help with the continued development and improvements of our training simulators. When I was managing people, I felt disconnected from the actual products. When this Project Coordinator position became available, I felt it was an opportunity to be able to get back in the trenches. I felt I was the perfect fit for the role.

What are your responsibilities? How do you support Simformotion customers?
I am responsible for working with CSE Software, Caterpillar and customer teams to define, develop and test our simulator products prior to them going to production. I work with these teams on everything from minor changes to support requests to entire simulator releases. 

What are some of your goals? 
I have one goal, which is to help make Simformotion the best simulator team in the industry.

Tell us about your professional experience. 
I started at CSE right out of college in 1997 as a software developer. My first move was in 2010 when I was asked to be a part of the simulator development team. I was one of the original four team members and have been part of the simulator team ever since. I worked a couple years of project management, then became the 3D Team Lead in 2018. At the end of 2021, I was asked to become part of the Simformotion Team and here we are today.

How do you learn about new technologies?
TikTok of course.  😊

What have your years of professional experience taught you? 
You can't make everybody happy all the time.

What has been your biggest accomplishment professionally or in life? 
I have had the pleasure to be with one company my entire 25-year professional career. I have been very lucky to be able to move around within CSE and Simformotion, take on new opportunities and learn new skills.  From my personal life, I am proud of the family my wife and I have created.  And my Christmas light show.

Do you have a favorite quote? If so, what is it? 
You will never know if you do too much but will always know if you do too little.