NEW! Cat® Simulators Backhoe Loader Training System, Wheel Loader Machine Safety Infographic, Making a Difference in Incarcerated Prisoners' Lives One Training Program at a Time, In-Person Training
NEW! Cat® Simulators Backhoe Loader System
Set in a construction setting, the new Cat® Simulators Backhoe Loader system trains students and operators how to operate a Backhoe Loader (BHL) properly and efficiently. From conducting a pre-operation inspection to driving to lifting to trenching and much more, learners can now experience hands-on training with genuine Cat controls anytime, anywhere.
"The new Backhoe Loader simulator rounds out the family of construction models in the Cat Simulators line. It's a versatile machine and our team has worked closely with the operator experts at Caterpillar to develop every exercise," says Renee Gorrell, Vice President of Simformotion. Read more. 
Contact an Account Manager for a demo today!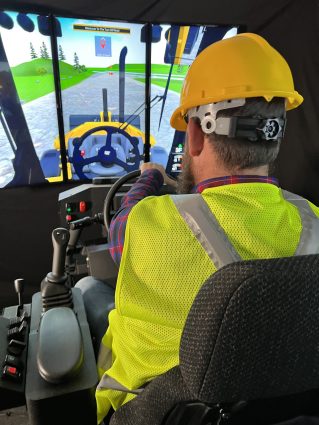 Free Infographic: 10 Tips for Wheel Loader Machine Safety
Wheel Loaders can be found moving and carrying materials on most construction and quarry job sites. Keeping others as well as themselves safe is one of the operator's responsibilities. Download the free infographic and post it as a reminder of 10 tips every operator should remember whenever they are operating a Wheel Loader.
Contact us to find out how heavy equipment simulators can train operators and prevent possible injury to operators, job site personnel and equipment.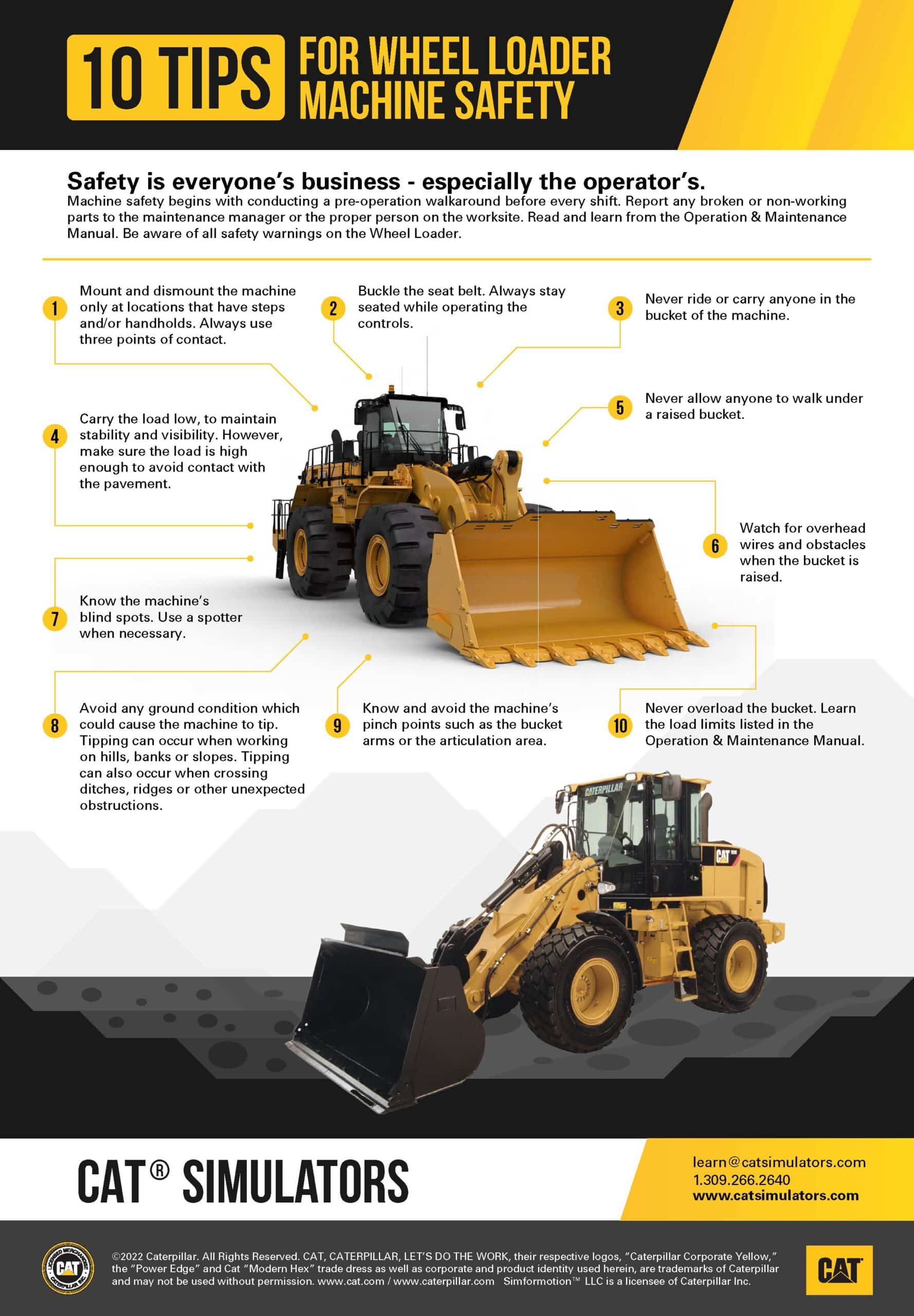 Making a Difference in Incarcerated Prisoners' Lives One Training Program at a Time
To help reduce recidivism and provide employment opportunities for women inmates after their release, the Louisiana Department of Public Safety & Corrections recently expanded its reentry program to include a women's heavy equipment operator (HEO) training program complete with two Cat® Simulators systems. Read more.
In-Person Training from a Cat Simulators Operator Specialist
If your company or organization needs to increase productivity or teach your operators specific machine applications, our Cat® Simulators operator specialists can help! We'll bring our convertible simulator units, complete with authentic Cat® controls, directly to you so your operators can cross-train on multiple machines and learn step-by-step techniques found on real-world worksites. Cat Simulators systems are developed with Cat expert operators and licensed by Caterpillar.
With a training specialist, learners can:
Improve operator performance that improves production.
Build operator skills with authentic Cat controls.
Experience machine exercises in a safe environment.
Learn specific safe operating procedures; break bad habits.
Train anytime day or night, regardless of weather conditions.
Cross-train on multiple machines.
Contact us to schedule an operator training specialist at your location. Call 1.309.266.2640 or send us a message.