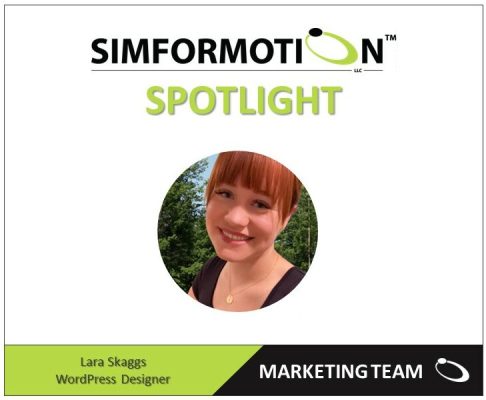 Why did you choose to work at Simformotion?
I was looking for a role that would challenge me and help me grow in my career. Being a technology company, Simformotion is always growing and evolving. Working here has given me great opportunities to learn new skills.
What is your role and what are your responsibilities?
I manage Simformotion's websites, the SimScholars™ learning management system and a little bit of everything in the Marketing department.
What are some of your professional goals?
My main professional goal is to keep learning. I love working with technology, solving problems and being efficient and productive in my role!
Tell us about your professional experience. 
I worked in customer service for many years at State Farm and Peoria Disposal Company. I was fortunate that those roles evolved during my time there including working in marketing and website management. In my nearly 6 years with Simformotion, I've worked with both Sales and Marketing which have propelled me into my role today.
What have your years of professional experience taught you? 
I've learned that being flexible and open-minded is one of the keys to success. Being flexible and adapting to changing circumstances and expectations is how work gets done.
Do you have a favorite quote or meme? If so, what is it?
"The most dangerous phrase in the English language is 'We have always done it this way.'" – Dr. Grace Hopper